Here at ShellCordovan.com, we seek to provide you with helpful information about one of the world's most luxurious materials, shell cordovan leather. For centuries, shell cordovan leather has been the apparel choice for men and women who desire a timeless fashion statement, or simply to know they've bought the best of the best - as usual. It may come in the form of shell cordovan shoes, cordovan belts, or desk accessories. Shell cordovan leather, like a fine wine or cigar, takes time, patience, and labor to produce. No one would doubt that the six months it takes to tan shell cordovan leather is worth it in the end, with a result so rich, soft, and enduring. Shell cordovan leather production sites are extremely rare (there are only two!), and you know the connection between rarity and prestige - not to mention price. But ask any wearer of shell cordovan, and they will tell you that the wonderful feel, luster, and the beautiful time-acquired patina are well worth the cost.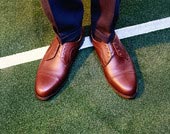 What is Shell Cordovan?
Shell cordovan is the term used to denote the leather made from a horse's rump. A horse provides two "shells,"...
Read more
Shell Cordovan Production
The process by which shell cordovan leather is produced is centuries old and so special that it simply cannot be...
Read more